News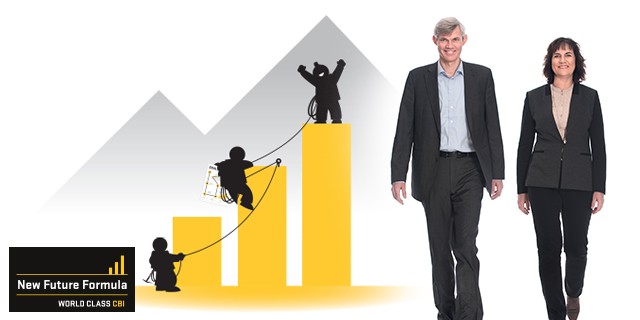 On 1st of April 2007 New Future Formula saw the light of day. Over the years, we have assisted organizations create convincing and lasting productivity gains. We have had the pleasure of cooperating with early infancy start-ups as well as thriving businesses in need of new inspiration. Over the next 10 weeks, we will be sharing with you the essence of our learnings plus tips and tricks from our first decade. We hope to provide you with inspiration to continue your journey towards the top. But what is in fact "the top" for you – and why is it worth pursuing? With this in mind, this week's topic is "Meaning, target and direction of CBI".
New Future Formula, 10 years
We have discovered the formula for continuously improving effectiveness
0. Purpose, objectives and direction...
On 1st of April 2007 New Future Formula set out on its journey. Much has happened since then. New Future Formula has been dedicating the past few years to fine-tuning the many approaches to making business enterprises work in a better, faster and more intelligent manner. We call this "CBI – Continuous Business Improvement" because it embraces the entire organization and supports a variety of already on-going effectiveness-enhancing initiatives. The approach can also improve revitalization of on-going programmes, if this is required. Our CBI is also the ideal tool for companies looking for a simple, yet powerful structure and sturdy tools for their future effectiveness-enhancing programme. We are celebrating our 10-year anniversary by serving you, the readers of New Future Formula's newsletter, 10 easily digestible titbits.
Using the CBI formula, organizations continuously achieve three things:
Documented bottom-line revenue improvements to the tune of 4-16 %.
Year by year, improvements that the customers can understand and which make sense for the staff.
Year by year, people with enhanced skills and improved systems to see and to carry through improvements.
"We are already now having difficulties overcoming the daily operations. Why launch more initiatives?", leaders and employees ask themselves. This is the natural question when the idea of setting up a CBI programme is aired. Perhaps your company already follows a vibrant pattern of constant improvements. Through knowledge, we want to inspire you to roll even better and even faster with a smile on your face - and it does not matter if you call it a lean, a quality development or an excellence programme.
Your customers as well as ourselves as human beings are constantly yearning for improvements. Changes may not be all that much to our liking, and yet we go through with them time and again because we want the improvement. Since we are constantly in the process of changing and improving things, we might as well make the process interesting and meaningful. Since we are striving to make our wheel slightly rounder, slightly lighter and slightly cheaper day by day, we might as well try to turn the process in to a "continuous pleasure" instead of a "recurrent plague".
When it comes to CBI, the first thing management needs to do is to make its mind up why the organization wants to work with CBI, what exactly are we aiming to achieve - and how will the organization move towards the goal. In short: "0. Purpose, objectives and direction". When you really want world-class CBI, this is a process you must go through. Sooner or later, any ambitious organization must define a keen, stimulating and 200% felt CBI manifest for its "meaning, target and direction".
The CBI manifest might be a poster to be found at key spots on all locations, with the signatures and photos of all key leaders who with dedication and in blunt words have worded the company's objective, target and direction – with CBI as one of several or perhaps even the main tool.
The values included in a CBI manifest are indeed weighty. Below you find a few examples:
You combine your company's strategies to development of the organization expecting a steady flow of specific improvements by means of CBI. This will clarify the picture across the entire organization. You do away with many slides. You avoid many political fights.
You link innovation and CBI. Innovation is key to the break-through. The many subsequent trims are part of the CBI process to ensure full benefit of the innovation.
You develop the framework for a shared culture and structure and thereby enable all corners of the organization to overcome a wide flow of continuous improvements.
You mobilise and support the extremely critical and ambitious autonomous change agents that you find in all nooks and crannies of good companies. They are given a clear and unfiltered mandate to go ahead with and to use as spearhead. You bring about an increase in effectiveness and productivity that outperforms previous outcomes – and those of your competitors. They gradually lose weight if the industry's performance has been "unclear but around the 3%" while your own performance has wavered "around 6%" for years.
When it comes to CBI, the company's key leaders must go all in, and the process of developing a manifest is bound to generate productive conflicts and uncover the genuine will power, if it exists. To be honest, it is hard work and constitutes a collective life style change that requires a common approach as well as determined individuals who not only "would like" or "want" but "WANT" CBI. The wheels do not get rounder, faster and cheaper out of the blue. You need to fight this war together – you are bound to encounter "annoying punctures" but you can live through crises, even with a smile, if the future ahead of you is meaningful and reasonably clear.
Management ought to be able to answer five simple questions if they want to claim that they are working seriously with CBI:
What works – and what does not work in today's CBI set-up in your organization?
Do you share the same image or perhaps even a manifest detailing what you are to do and what you want with CBI?
- Does everybody fully understand how CBI supports strategies and dreams?
- Does everybody fully understand how CBI as a tool can improve your daily lives?
Does the organization view CBI as a tool to carry through specific common-sense improvements while at the same time developing its competencies?
Does the motivation for CBI exist? Is it fun and educational for every single member of the organization to take part in the CBI process?
Is it obvious that you, as top manager, WANT CBI? How? Is it with a motivating and positive mindset – a negative mindset that takes its toll on you?
You might want to address these questions at the next the meeting of your management group.

Our next posting will discuss step 1 of the CBI formula – we will "see the world". You will receive key advice on how to scrutinize your company processes.
New Future Formula is dedicated to working with CBI - Continuous Business Improvement.
Together with our client:
- We design, introduce and support new CBI programmes.
- We inspire, evaluate and improve existing CBI programmes.

The CBI formula is our framework. To begin with we look at meaning, targets and direction. Through continuous process improvements, employee development and system optimization we create a steady flow of results. This allows us to spread out the continuous effectiveness efforts to all corners of the company and its life.

Since 2007, New Future Formula has completed more than 8,300 improvement projects for more than 80 organizations with a documented effect on the bottom line in excess of DKK 1100 million (EUR 148.6 million). In the process, more than 500 people have received training.
Share with your friends